Finally after 18 years I've finally completed my WS short line RR. Always looking for useful scrap such as ties or the latest rails. Last year I found a single piece of scrape rail that was converted for a guard rail post long ago. When Tonawanda was ripping up the EL for the bike path, I grabbed it. I was hoping to find another piece of scrape rail but everything I found was too big. So last week, I finally caved and had it cut in half. Most of the time stamp remains on one piece. Could have been worse. Here are some pics:
Cutting the rail: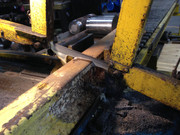 The result of the cut: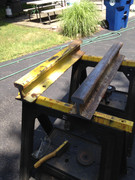 I was hoping to avoid a torch cut. Fortunately the family business has a band saw. Clean cut: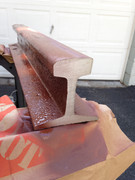 Prime with time stamp: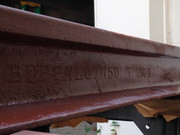 WS tie plate it will fit into: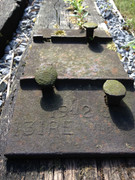 The tie plate is not the correct size for this 1909 rail. Slow order?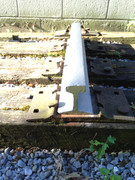 Both rails installed with time stamp. The time stamp really sticks out with having been scrubbed of corrosion and painted.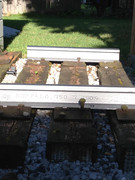 I grabbed this picture as I suddenly noticed the sun [ultra solar power] was hitting the back of the lens and lighting it up.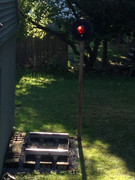 Everything except the rails and ballast are WS. I may be able to correct the rails at some point in time but I'm not likely to get permission to dig them out. I'm not certain if my piece ever served the EL or not. The guard rail is close enough.
At least I'm not in receivership!