After skiing, I stopped at Pizza Express on Broadway and then parked over at Old Broadway to hopefully catch some action. I had good timing yesterday.
As I pulled into Old Broadway and started eating my lunch, a single unit CSX train was parked doing a crew change.
Lunch is served: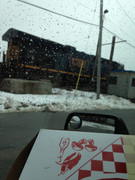 Click here for larger picture:
https://postimg.cc/z39BgRwP
After a few minutes I could see that the signals at Harlem Rd had turned green and slowly CSX started to move. He only started gaining speed until the signal. I didn't think much of his slow motion as it was only 1 locomotive. The consist was a real mix of everything and in no obvious order. Tank cars, box cars, covered hoppers with lumber cars etc etc. I thought with just one locomotive up front, there might be one or two in the middle. But finally , the end of the train passes by and it is one locomotive on the rear. No FRED.
Just a few minutes later, a single BNSF eastbound unit pulls in and stops for a crew change. I didn't pay attention to what he had in tow. Just cool to see one of these units.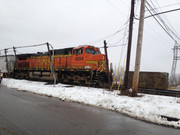 Click here for larger pic:
https://i.postimg.cc/br5Y725N/IMG-2417.jpg
While he was parked, a westbound CSX train comes to a stop for a crew change. Single unit again. The Harlem Rd signal turns green and BNSF starts to move. This is when it grabbed my attention as he moved along. He's pulling a stack of welded rails. I counted about 22 flatcars. I thought perhaps there might be a split in the rails but they were all one piece from beginning to end. I estimate that the length of the rails were 3/4 of mile based on how much of the train had passed by me as comparted to the Harlem Rd signal being tripped from green to red.
This picture shows the rails crossing from one flatcar to another. You might also see where each section of rail was welded forming one piece.
Click here for larger pic:
https://i.postimg.cc/4ycNT3R6/IMG-2418.jpg
End of the rails: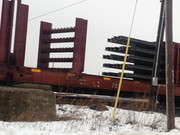 Larger pic:
https://i.postimg.cc/kGW6vsGP/IMG-2420.jpg
After he rolls out of view, the westbound CSX train begins to move and he also had one locomotive on the rear end of the train. Is this a new "thing?" I don't think I've ever seen this many trains with one loco up front and one on the back end. Whatever works I guess.
A Sperry unit was also parked in the yard. #131.
Through the binoculars: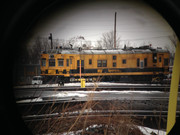 Larger pic:
https://i.postimg.cc/X7Q7SmTD/IMG-2423.jpg
Despite the rainy day it had become, it was a good day to watch.