The other day while riding my bike up in Tonawanda to check on the new path [not completed yet] I noticed a single piece of scrap rail laying all by itself. Its usage was for the guardrail. I was driving my Focus and the bike in the back so I couldn't acquire it without destroying something, including my back.
The next day, I drove up with my F150 hoping the some construction crews were there so that I could ask for it. They looked at me quizzingly. Then each other. I was kinda smirking myself and they hadn't really decided if I could have it. So I nudged them a little bit, "So, can I have it?" They said yeah ok and walked off. I got in my truck and backed up to the rail. It was nice to have the F150 because it blended well into the construction background. The was small enough that I could lift one end onto the tail gate with about 1 foot above it. This allowed me some leveraging and reduced the weight to pick up the rest of it. Which wasn't too bad. I got it in the truck, tied it down and off I went a happy camper.
When I got it home and off the truck, I cleaned the mud off of it. Corroded but not to bad. I could make out the time stamp on it.
LS Co. BUFFALO 750. 1909...………..I don't know what the 750 means. I assume the rest of it is Lackawanna Steel Company manufactured in Buffalo in 1909.
I was going to have it cut in half to fit my row but that would mean a cut through the time stamp. Not gonna happen. So I need to find another piece of scrap rail. Here are a couple of pics.
In the truck: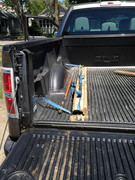 Time Stamp: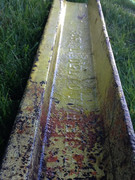 My ROW: