Here is a shot of one of the brand-new Capital Metro (Austin, TX) Metro Rail's new MU sets, built by Stadler Bussnang AG. I know they've been having some trouble getting the trains certified by the FRA due to their antiquated rules, but these trains will hopefully be launching this year! I hope this will be the start of a very succesful new commuter rail system!
Photo by me.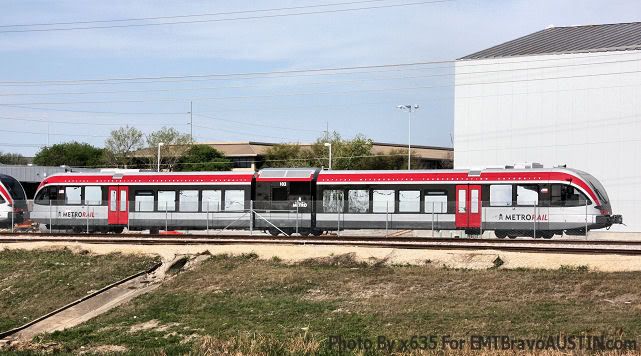 Details on the whole system and future plans can be found here:
http://allsystemsgo.capmetro.org/capita ... rail.shtml
Details on the cars, and how they made it here, can be viewed at the following link:
http://allsystemsgo.capmetro.org/capita ... cles.shtml
Very comprehensive website about the whole system, it's operations, etc.
One of the neatest things about these trains I think is that they are going to have Wi-Fi. Also, it's cool that they are not some cheap light rail system, they full diesel powered MU's that will run on regular railroads along with freight trains.